Fix: An email recipient receives a winmail.dat instead of attachments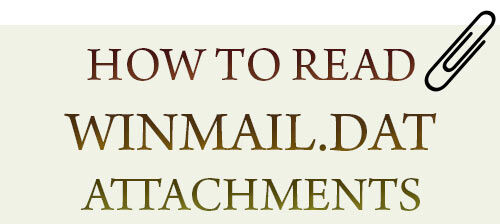 Recipients notify you that the e-mail messages you send to them appear as messages with an attachment called winmail.dat.
Cause
• You are using the Rich Text message format, which the recipient's e-mail program cannot interpret correctly.
• The recipients email address has become "corrupt" in Outlook's "auto-complete" list. The Auto-Complete List is a feature which displays suggestions for names and email addresses as you start to type them in the To, Cc, and Bcc boxes. These suggestions are possible matches from a list of names and email addresses from the email messages that you have sent.
[hr]
Resolution
STEP #1: Send messages in HTML or plain text format (not rich text)
1. On the Tools menu, click Options, and then click Mail Format.
2. Under Message Format, in the Compose in this message format list, click HTML or Plain Text.
3. Click OK.
STEP #2: Remove an email address from Outlook's Auto-Complete
There might be entries that you want to remove, such as entries that are no longer current or accurate. To remove unwanted names, do the following:
Select the unwanted name or email address by using the UP ARROW or DOWN ARROW key.
Click X or press DELETE.
To remove all names from your Auto-Complete list, do the following:
Click the File tab.
Click Options.
Click Mail.
Under Send messages, click Empty Auto-Complete List.
Source Article: https://office.microsoft.com/en-us/outlook-help/delete-a-name-from-the-auto-complete-list-HA010355568.aspx
Do you more customers, patients, or sales? Curious if you're a good fit to work with us? Fill out the project inquiry form to tell us about your project.
Want to schedule a call? Click on the button to schedule an appointment with us. ZERO Obligation. We promise you will enjoy our chat!
Sign up to get a monthly eNewsletter to receive tips, tricks and the latest tech news!