Bulk Delete Archived Mail from Gmail
Bulk delete archived mail from Gmail simple instructions on how to accomplish it without a huge headache. My simple instructions will give you quick steps on how to bulk delete the emails you thought were deleted but really are in the archives.
Gmail's archiving removes messages from your Inbox but keeps them in your account so that you can always find them later. But archiving is like moving messages into a filing cabinet for safekeeping rather than putting them in the trash can. Because if you are like me and really want the emails you DELETE actually to be deleted, then here are the steps you will want to take to delete them forever and turn the "archiving" feature off. Here is quick and easy instruction on how to bulk delete archived mail from Gmail.
How to Bulk Delete Archived Mail from Gmail
Step 1

– Turn the Gmail Archiving Feature Off

1. Log out of Gmail on your smartphone, computer or anywhere you are signed in.

2. Log into Gmail via desktop go to the top right of the main page and click on the gear icon >arrow down > select "settings".

3. Go to Forwarding and POP/IMAP label and in the IMAP Access section:

• Select "Auto-Expunge off – Wait for the client to update the server."

• Select "When message is marked as deleted and expunged from the last visible IMAP folder" and choose "Immediately delete the message forever"

4. Click on GENERAL tab > navigate to "Conversation View" select "Conversation view OFF" (you can turn this back on when you are done)
STEP 2 –

BULK DELETE ARCHIVED EMAIL FROM GMAIL

1. Go to the folder INBOX> Label ALL mail that is in the INBOX by clicking the down arrow next to the "Select" (square icon) and select ALL.>then click on label icon>type in the name (I named mine FILE LATER>click on create new (create any label name you want, you can delete it later)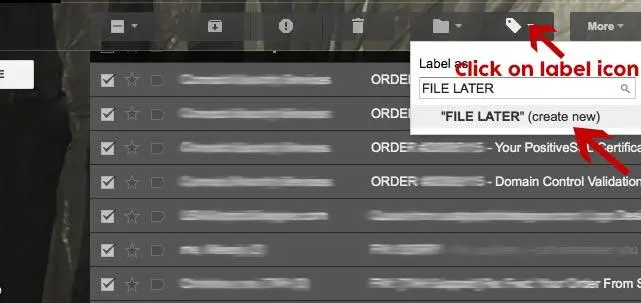 NOTE: Gmail allows you to select all your emails and not just the ones displayed on a single page. To make this selection, from the left sidebar on the Gmail site, select the folder in which you want to select all emails. At the top of the emails list, from the toolbar, click the down arrow next to the "Select" (square icon) and select ALL.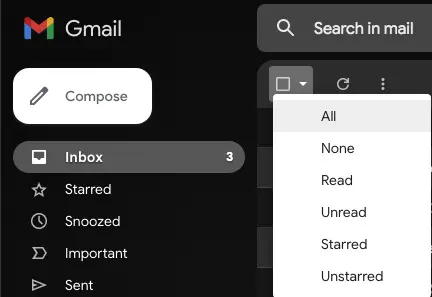 Then in the center of the screen click on the link says "Select all X conversations"
NOTE: If you want to keep your SENT folder emails, then you will need to tag them as well. Select the SENT folder from the left sidebar and click on the select all square – create a tag or use the original tag. It will NOT allow you to use a tag named Sent since the internal system uses it. I use Sent2.
2. Search for every message that HAS a label > type has:userlabels into the Gmail search box
3. Click on the "Select ALL" and Label ALL of the results with a new "LABELED" label (I named my label "Email to Keep")

4. Type has:nouserlabels into the Gmail search box > select ALL > DELETE. Look through the emails and you should see all the emails you THOUGHT you deleted now in the TRASH folder.
6. Checkmark and Select ALL > EMPTY TRASH
7. Delete your "LABELED" label and the label you created for the emails that you had in your INBOX.
8. Turn "Conversation view ON" if you want it on and turned it off in Step 1.
For more information visit Gmails official Help site: https://support.google.com/mail#topic=7065107
Gmail's archiving function serves as a useful tool for decluttering your inbox without permanently erasing pertinent emails. It acts as a digital filing cabinet, keeping messages handy for future reference. However, for those of us who prefer a clean slate and genuinely want certain emails gone, archiving is not an option. Use a straightforward method to bulk delete archived mail from Gmail, ensuring they're permanently erased from your account.
Additionally, by adjusting settings, one can circumvent the automatic archiving process, aligning Gmail's functions more closely with personal preferences. This ensures a more tailored email management experience, allowing users to maintain their digital space in a manner that best suits their needs.
If you found this article to be useful please consider sharing it on social media. Check out more posts about technology.