Last Updated April 19, 2022
Looking for SIMPLE instructions on how to how to delete archived emails in gmail? Look no further, these simple instructions will give you quick steps on how to bulk delete the emails you thought were deleted but really are in the archives.
So Gmail's archiving removes messages from your Inbox, but keeps them in your account so that you can always find them later. But archiving is like moving messages into a filing cabinet for safekeeping, rather than putting them in the trash can. Because if you are like me and really want the emails you DELETE to actually be DELETED then here are the steps you will want to take to DELETE them forever and turn the "archiving" feature off. Here is quick and easy instruction on how to BULK Delete Archived Mail from Gmail.
How to BULK Delete Archived Mail from Gmail
Step 1 – Turn the Gmail Archiving Feature Off
1. Log out of Gmail on your smartphone, computer or anywhere you are signed in.
2. Log into Gmail via desktop go to the top right of the main page and click on the gear icon >arrow down > select "settings".
3. Go to Forwarding and POP/IMAP label and in the IMAP Access section:
• Select "Auto-Expunge off – Wait for the client to update the server."
• Select "When message is marked as deleted and expunged from the last visible IMAP folder" and choose "Immediately delete the message forever"
4. Click on GENERAL tab > navigate to "Conversation View" select "Conversation view OFF" (you can turn this back on when you are done)
STEP 2 –

BULK DELETE ARCHIVED EMAIL FROM GMAIL

1. Go to the folder INBOX> Label ALL mail that is in the INBOX by clicking on the select all>then click on label icon>type in the name (I named mine FILE LATER>click on create new (create any label name you want, you can delete it later)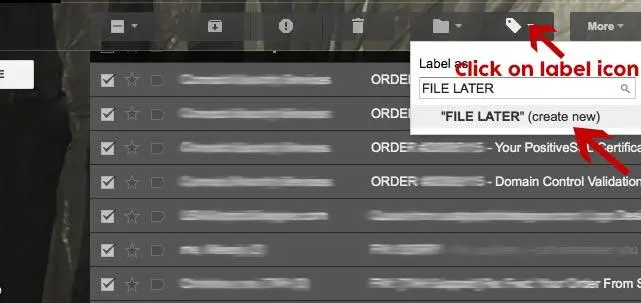 2. Search for every message that HAS a label > type has:userlabels into the Gmail search box
3. Click on the "Select ALL" and Label ALL of the results with a new "LABELED" label (I named my label "Email to Keep")

4. Type has:nouserlabels into the Gmail search box > select ALL > DELETE. Look through the emails and you should see all the emails you THOUGHT you deleted now in the TRASH folder.
6. Check mark and Select ALL > EMPTY TRASH
7. Delete your "LABELED" label and the label you created for the emails that you had in your INBOX.
8. Turn "Conversation view ON" if you want it on and turned it off in Step 1.
For more information visit Gmails official Help site: https://support.google.com/mail#topic=7065107
2021 All rights reserved. Christine Otten